顧客就是上帝
Foot Bath and Body Health Massage is a Chinese health cure handed down from ancient times in order to cure stiffness and pain,to recover beauty and health, and to prevent illness.
KOMACHIEN Movies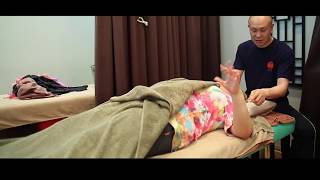 KOMACHIEN reiki Shiatsu English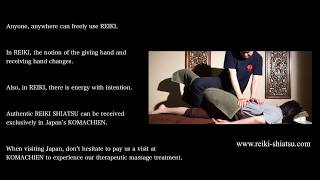 KOMACHIEN Treatment (Complete) English
Foot Bath & Body Health Massage
Pressure-massage (shiatsu) and stimulation on the reflex bands(reflection zones) of your sole and your upper body restore the body's condition, release you from stiffness and pain, and remove your tiredness.
After a soothing foot bath in hot water with a variety of more than ten different Chinese herbal medicines, the foot is rubbed with salt to let the disinfecting and sterilizing effect of salt come into its own.
Comfortably stimulating the vital points (pressure points) and the reflex bands (reflection zones) on your sole and massaging the lymph nodes is an effective way of removing the body's swellings and restoring its balance for the better. In addition to this regularizing action, this also promotes the excretion of wastes.
This therapeutic Foot Bath and Body Health Massage is also known as the "Royal Massage" , a highly effective cure backed by history and tradition. So, come to KOMACHIEN and experience the unique feeling of refreshment that restores and relaxes both your body and mind!
The sole has a number of vital points that are linked to the inner organs - the heart, liver and stomach - and to the five senses, including eyes, ears, and the nose.
Massaging these vital points by way of finger pressure (shiatsu) and stimulation relaxes and restores the stressed and tired organs of your body.
You may wonder what the back of the foot has to do with the inner organs.Although they seem to be unrelated, there is a very profoundly significant relationship between them.
The whole body is made up of its individual parts and these parts, in turn, are an expression of your body. All of these relations, interactions and connections that exist among the body parts maintain your body as a whole in a well-balanced and healthy condition.
The Foot Bath and Body Health Massage applies and releases pressure to the vital points and reflex bands (reflection zones) on your sole, and the application of moderate finger pressure and stimulation soothes your brain and regularizes the body's fluctuations while bringing relaxation. It promotes blood circulation and metabolism and strengthens your body's natural healing power.
Dermal-Facial Beauty Cure
The Dermal-Facial Beauty Cure is a Chinese-style face care treatment that applies an appropriate amount of stimulation and vibration mainly to the vital points on your face.
The essence of this facial treatment lies in the delicate, smooth hand movement with which the face is treated. Loosening the skin in this manner not only restores the skin's condition and gives it the natural suppleness back, but also lulls your mind to doze off as if in a dream. The facial skin pack contains both sea weeds and silk to restore the skin to your health and vigor.
Esthetic Slimming Treatment
The Esthetic Slimming Treatment, a Chinese-style body care method, heals the body from inside: Using silk powder and oil, treatment is administered by lymph drainage and meridian massage.
The result is a transformation that feels as if the tired body, skin and mind have all been purified. Your pneumathemic (qi-blood) cycle and the lymph flow are promoted, excess swelling and fullness are relieved, and water discharge are accelerated with the result that your body is refreshed with a pleasant sensation of lightness.
The "beauty" imparted by this treatment can be so striking that you may look a totally different person.
Cupping Treatment
The Chinese cupping treatment method is a totally painless way of restoring the parts of your body that are in poor condition with compressed air to recover, repair and restore. (According to the symptoms, the color of the skin may change, but the normal color of the skin will be restored in a matter of a few days.)
Reading, Hearing, Seeing is Believing
Defrag Treatment(Subject to reservation)
Defrag Treatment is the ultimate therapy to improve and recover your body's ill-health and discomfort in any part of the body to restore it to an optimum condition. It uses a special (8 ~14μ infrared light emitting) metal rod to warm the body from inside.
Not only does the Defrag treatment strengthen your body's immune system and enhance Chakra (natural healing power), it also activates your mind and regularizes fluctuations to turn the Yin-yang (negative-positive) balance in a favorable direction.
It relieves your poor state of health and creates a healthy balance at amazing speed. It also improves acquired diseases and restores and optimizes your health. With these benefits, why not try Defrag treatment?
(Your body may feel heavy for a day or more after treatment, but nothing to worry about. It's only a sign that things are turning to the better. In reality, your body is on the way to gaining its optimum condition. It may take you a few days to feel improvement and recovery.)
Special-Color Tea
TOGENKYO Tea Parlor
At the TOGENKYO Tea Parlor, you can enjoy the day's special Chinese tea. Some of the finest teas grown in China are served.
Not only is the variety of Chinese teas, the tea leaf powder and the utensils startling, but you may also be pleasantly surprised at the abundance of taste, aroma and flavor: a soothing experience that has a healing action on both mind and body.
Don't miss the unique opportunity to look for the Chinese tea that is just right for you.
Our entire staff is looking forward to seeing you at Komachien and to offering your our services.